Every good relationship starts with a conversation. This has been true for a long time and continues. Today, people and businesses are increasingly connecting through WhatsApp. WhatsApp is today's big platform to use for conversations.
Promote Route's newly introduced feature "Smart Reply" helps WhatsApp uses to give automatic replies to their customers based on their predefined keywords.
How does it work?
Add relevant keywords, questions, dialogues, and answers into smart replies message.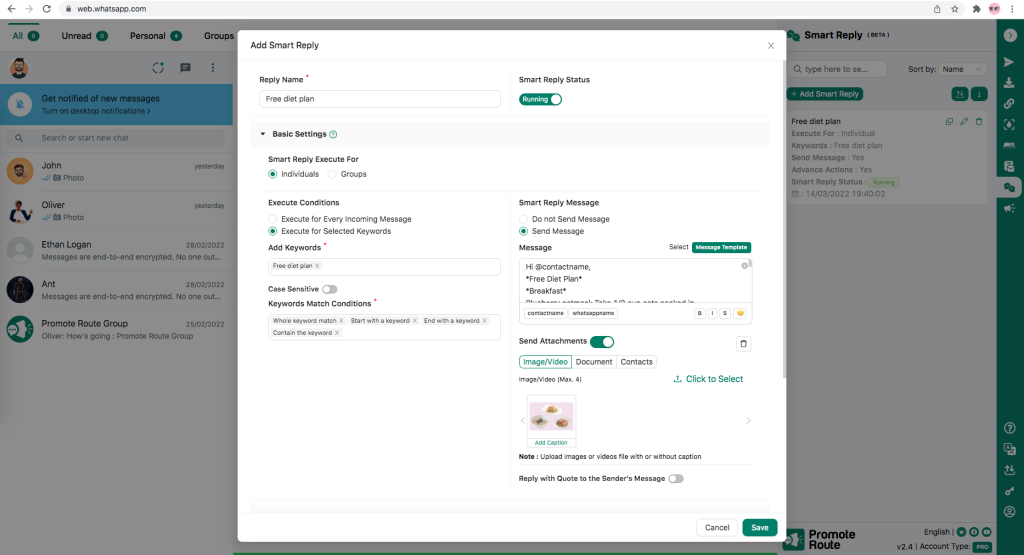 Reply Name
Generally, users write here their smart reply name with their use case. You can write here whatever name suits your use case.
E.g. Welcome Greetings, New Customer Smart Reply, Ticket received, Order Shipped, Thank You Message etc.
Smart Reply Status
Running: Smart reply is continuously running and execute when the condition match
Pause: Smart reply is paused now, not running
Basic Settings
Smart Reply Execute For: Define whom you want to send
Individuals: It means one-to-one chat conversation
Groups: It means inside a groups chat conversation
Further, there are multiple options for the groups
All Groups: Smart reply will execute on all groups
Selected Group: You can choose the groups where do you want to execute the smart reply [Here you have Select Group For Execute Smart Reply option for the select group]
Execute Conditions: Define conditions to execute smart reply
Execute for Every Incoming Message
Be careful while using this selection, It will execute your smart reply every time you receive the incoming message as per configuration
This will be helpful when you want to send a common greeting message or out-of-office type of information
Execute for Selected Keywords

You can add as many keywords as you want and when the condition match, it will execute the Smart reply.
Just type your keyword or whole sentence and press enter to add them
If you want to execute the Smart reply when someone sends keywords like JOIN, SUBSCRIBE, LEAVE, BLOCK, or many more…
Case Sensitive

On: When you put Case Sensitive On, "JOIN" and "Join" both will be identified as a DIFFERENT keyword
Off: When you put Case Sensitive Off, "JOIN" and "Join" both will be identified as the SAME keyword
Keywords match conditions are

Whole keyword match: Check the whole keyword from the received message
Start with a keyword: Check starting word from the received message
End with a keyword: Check ending word from the received message
Contain the keyword: Check to contain keywords from the received message
Smart Reply Message: Define what you want to do after keyword conditions match
Do not send a message

Select this option for perform actions only [If this is selected then ACTIONS will be compulsory]
Send Message

Select this option to send a message
Select template for select Message template message
If you have selected Individuals reply type then you have personalized option contactname and whatsappname
If you have selected Groups reply type then you have personalized option contactname, whatsappname, and groupname
Reply Groups Messages as Privately in One to One Chat

Select this option for a reply message to private from group
Reply with Quote to the Sender's Message
Advance Actions
Before Reply: Do action before smart reply execute
Show Typing Status

Show typing status before sending a message
Dynamic Delay

Add a delay before sending a message
Don't Execute, When the Chat Conversation is OPEN

Stop executing smart reply while your conversation is open
After Reply: Do action after smart reply execute
Custom Tab Actions

Add or remove conversation in Custom Tab
Group Actions

Add or remove contacts in Group
Archive Actions

Archive or Unarchive Conversation